Leading with Heart
Humans Being At Work is proud to be Accredited Heartstyles Associates. Heartstyles is a global firm who are world leaders in growing heart in business. Heartstyles tools have been developed around the simple premise that effective people effective results. Heartstyles is a journey of developing strength of character through self-awareness. As our character is being developed, our true potential is released. The philosophy underpinning Heartstyles is that in order to understand and change behaviour, we must first examine our cognitive thinking and the attitudes of the heart that underpin and motivate what we say and do.
Humans Being At Work is accredited to deliver the Heartstyles Leading with Heart leadership program which is a holistic, integrated program comprising three main elements (these elements can be combined as required to suit the needs of your organisation):
Character Development – a 360 degree character development tool (referred to as the Indicator) is a starting point to measure the principles and thinking driving effective and ineffective behaviours. The Heartstyles Indicator measures effective (functional) or ineffective (defensive) behaviour. It measures our view of ourselves (our self-concept) and how others view our behaviour. It is not a personality profile (or type) but rather an indicator of behavioural effectiveness showing "where am I at this point in time rather than what 'type' am I?" You, the participant, completes a Self score (your perceived current position) and Benchmark score (where you'd ideally would like to be) and invite 3 -24 respondents in groups of three (i.e. three direct reports, three peers, three supervisors for example) to give their perception of your behaviour. Your results are presented to you diagrammatically in a detailed Personal Development guide (report).
Leading with Heart Leadership Development training – building on the 360 feedback, this innovative two day leadership development program is the next step for selected individuals who have the desire to grow and grow others. The program is designed to help participants understand why they do the things they do and how their current behaviour is impacting their leadership potential. Participants 'deep drive' into the four quadrants of the Indicator that reflect four universal principles driving behaviour; Humility (Personal Growth), Love (Growing Others), Pride (Self Promoting) and Fear (Self Protecting).
Coaching – much research has highlighted that once-off intervention seldom results in a sustainable shift. Through the coaching journey we continue to unlock individual awareness identified in the Indicator (360 feedback) and solidify character development one-on-one.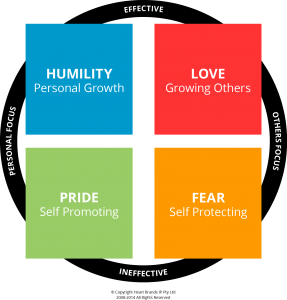 Experience shows that if you and your leadership team experience this together there is tremendous opportunity to change the organisational climate; almost immediately.
Using the Heartstyles tools we can help your organisation reduce the cost of ineffective behaviour by measuring it, then transforming it to more effective behaviour. Effective people create effective cultures and drive effective results. Profitability and personal growth are interdependent.